No-egg Salad
Today is my day of rest; letting my muscles heal and relax so they can rebuild and I don't burn out. Been seriously feeling it, super exhausted the past couple days. Right at the edge of full body muscle fatigue. By the end of the evening I definitely wanted to exercise and missed it. Will do my before bed sit-ups and push-ups, at least.
Anyway, before I get into the actual recipe, I'm going to put up a simple Caesar dressing. I'm adding it in with the hummus to take the place of mayo. More flavour, less fat = awesome. If you wanted to lower the fat of the Caesar dressing even more, I'd half the recipe with navy beans or white kidney beans. I'm going to try that out next time; and it adds some other nutrients, more fibre, etc. Protein would stay about the same, as tofu is good for protein. I don't use oil in the Caesar, but you are free to add some in, same with some Vegan Parmesan. (Which, by the way, my brother and I use for making vegan "smartfood" – I should come up with a name for that… Maybe I'll do a snack post soon…) The Rice version sometimes comes "vegan" – check your labels, the Rice cheeses will say "vegan" right on the package.
Easy Quick Caesar
2 pkgs silken tofu (I use mid-firm but any type will do)
LOTS of garlic, at least half a bulb. You can cut up the other half and lightly cook it to caramelised or bake it until its nice a gooey brown.
2 tbsp capers and some caper juice
Nutritional yeast
Dulse flakes if you have them
Lemon juice/apple cider vinegar
(Optional: veg parm)
Fair bit of salt
Lots of cracked black pepper
(Optional: olive oil)
Water
Food process garlic; add in everything else and process until creamy. Add water to desired consistency. You'll want probably ½ to 1 cup. If you are using oil, emulsify it in before the water. If you want a more classic Caesar omit the water, emulsify some olive oil, and then whip with veg/canola oil.
My no-egg salad is different from my tofu scramble. That reminds me, I'm coining a new way of "cooking" – stoveless veganism. It's like a fusion between being raw and cooked. When I get into some of the foods I eat and the recipes, it'll become clearer. Basically I cook nothing (although, to save costs, you *could* cook some of your own stuff, like lentils and beans which is cheaper than buying cans) but I do eat some "pre-cooked" foods such as canned beans and tofu. I just don't cook them further or eat anything hot.
My digestion is finally adjusting so it seems to be okay for me, lol. And I haven't ballooned up or gained weight, so I think I'll be okay. I'm noticing a real difference in my body so far. I know that to lose weight and tighten my stomach (losing lots of weight = loose skin, which sucks) I need at least a month to start seeing results, if not two, so I'm trying to not worry. There are obvious results with my arms and legs so it's plain that things are changing. My health is definitely up also: jogging now is fairly easy and I'm going to have to increase my morning jogs.
In short, so far, I'm having positive results. In all my research of being raw (it was 2.5 years of 100% raw, and at least a solid year of complete 80/10/10) a lot of the literature says that its more about the focus on clean, balanced eating with a [i]high proportion[/i] of raw, natural foods. Everything I eat is crammed full of veggies. As I eat no breads I use collard leaves for my wraps, or I'll make salads, or use bases of lettuce for meals. One of my favourite things is to get romaine hearts, cut them in half width-wise (just chop off the bottom to get the core; I cut it in half and feed it to my dogs. They're veggie vultures!) and then separate all the leaves and give them a good rinse. I leave a container of those half-leaves in the fridge as chips! Then I can make different dips and sauces or eat my "bumblebee tuna" and "cookless chilli" with lettuce "chips" rather than a spoon or as a sandwich/wrap.
What's so great about this is that you get awesome flavours, tons of veggies, the goodness of tofu (I love tofu, myself), tons of post-workout protein, not a ton of calories and fat, and plenty of nutrients and vitamins. Lots of colour. Turmeric is also really good for you and its an easy way to get it into your diet without always going for curries or mustard. As you don't need to cook anything and you don't even need to make it pretty — at its most basic you could do just green onions, or throw in any vegetables you happen to have on hand — it can be made in minutes. Leave it in the fridge and always have a meal on-hand, make it for a few portions right away, whatever. It's handy to have around. And its cholesterol and cruelty free.
This is really easy to make.
No-Egg Salad

1 block firm tofu (I use low-fat)
2 green onions, sliced
1 stalk celery, diced
¼ – ½ red pepper, diced
¼ red onion, diced
Hummus
Caesar (optional)
Sriracha (optional)
Mustard (optional)
1 tbsp cumin
2 tsp Turmeric
Salt
Pepper (fresh cracked)
Water
All you need is a large bowl and a knife. Into the bowl crumble tofu into chunks.

Prep veggies and toss them in.

Put in a couple tablespoons of hummus and a spoon or two of Caesar. Sprinkle in cumin and turmeric; I like a fair bit of cumin myself. Add a squirt of mustard and a drizzle of sriracha if using. Pinch in salt to taste and give a good amount of pepper.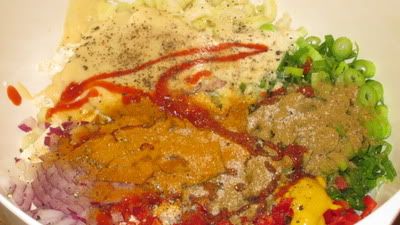 Stir it all together and add water until a nice creamy gooey consistency without it being "wet". Check seasoning and adjust as needed.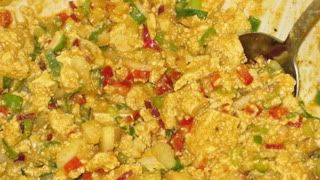 Really simple and just store in the fridge in a tight container. Make sandwiches and wraps without having to make a batch every time. It's also tasty on a bed of sprouts or scooped onto a nice salad. Or as I did, in a collard leaf with some sprouts, rather than using a tortilla. Enjoy!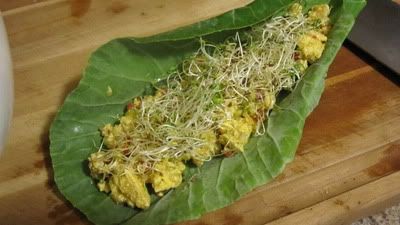 Next Page »