Leek and Olive Gnocchi
Leek and Olive gnocchi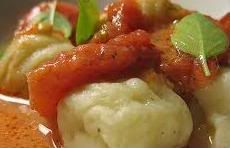 I made this dinner about a week ago (not for myself, though I did have a little portion and damn was it good lol!) It's really quite easy, and gluten free, can be made soy-free (simply by using soy-free earth balance! What did I tell you? I was going to push it. I should be getting paid by GFA brands Inc! [parent company]) and is really really super easy.
This meal was meant to be clean, simple, easy and fast. Italian food shouldn't be filled with super complex flavours and an overload of them either. You should be able to taste the elements of the food, but it should all come together as one tasty whole. I could have added way more ingredients into this, but the point was to NOT overload on ingredients. The leeks and olives were supposed to be showcased; you are supposed to taste each of them in the dish, that's the whole point of it. This meal can be made very quickly if you get your timing down. Even if you take your time it's pretty quick, as gnocchi cook in just a few minutes and the veggies don't take much longer.
I just bought pre-made gnocchi. Just plain regular ones which happened to be gluten free. Some are made with potato flour and/or starch, some use wheat flour. There's also a brand that makes regular gnocchi, rice flour gnocchi (exact same as regular except with rice flour rather than wheat flour) and whole wheat gnocchi. Most are egg-free, just double check the ingredients. I also bought pre-made tomato sauce, just a basic tomato basil. This is what I would suggest for this pasta; or you can make your own. Your other option is to make it an aglio olio sauce. It was amazing before I put the pasta sauce in so you basically can make two separate pasta dishes with this one recipe. One red, one white.
Clean your leeks! Leeks are dirty. The best way to deal with this is to trim off the root at the bottom, and to trim the tops to clean them up. Then slice it down the centre length-wise. Cut it however you'd like then rinse in cold water.
For aglio olio, add another clove or two of garlic, and at the end, instead of adding tomato sauce, add more olive oil (here extra virgin would be best), and water or veg stock (or vegan "chicken" stock). If you'd like, add a bit of basil, and/or vegan rice parmesan at the end. To serve aglio olio there should be some liquid in the bottom of the bowl, but the pasta should NOT be swimming; it should obviously be a coating/sauce, not water run-off. If in doubt, add more butter and let it cook down.
I made enough for two servings, so that's what I'll write; you can alter as you wish.
I pkg gnocchi
1 large leek (or two small)
~ 1 ½ cups black olives; I mixed four different types
1 bundle spinach (or one bag)
1-2 cloves garlic, minced
~ 1 ½ cups tomato sauce (more or less to taste)
Olive oil
Butter
Salt
Pepper
Bring a pot of salted water to a boil; drop in the gnocchi once it comes to a boil any time during the prep/cooking process.
While waiting for the water to boil, thick julienne your leek, clean and let drain. While it drains, heat your pan over medium. In this time, pit any olives that need to be pitted.
Oil and butter the pan. Be generous. Drop in your leeks and cook them until they begin to brown. Toss in your olives and minced garlic. Sauté.
When your gnocchi is done (when they float; you can continue cooking them to make them a little softer, I personally like my gnocchi left to cook for a bit) drain them and olive oil them. Let them dry a minute or two then toss them into the pan with the veggies; add the spinach. Cook it all together, making sure that nothing's sticking. Add more oil and butter as needed.
Salt and pepper to taste.
Add in tomato sauce and cook down.
Turn off heat and let it rest for a couple minutes, stirring occasionally.
Serve and enjoy!
2 Responses to 'Leek and Olive Gnocchi'
I always have trouble finding packaged gluten-free gnocchi. They usually have wheat flour in them too. Do you have a certain brand that you buy? I love the idea of these!

Next time I'm at the grocery store, I'll have a look at the gluten free options and post them up